Fletcher Cox is the centerpiece of the Eagles excellent draft class.
253 players are now NFL rookies as this year's NFL Draft started and ended with the Colts taking a quarterback (Andrew Luck, Chandler Harnish). Some teams have done really well this weekend while other teams will regret some of their picks.
Winners
Philadelphia Eagles
The Eagles had arguably the best draft this year as they made excellent picks throughout. Fletcher Cox will compete for a starting job with Mike Patterson and Cullen Jenkins at one of the two defensive tackle spots as Cox can be an impact player. Kendricks is a solid linebacker that can improve the Eagles linebacking corps even more as they have already traded for DeMeco Ryans. I am a huge fan of Vinny Curry as he will be a great third defensive end for Philly this year and I think he will be as good as Dwight Freeney in his prime. Nick Foles is a good choice in the third round as he could become the long term replacement for Michael Vick in Philly. Brandon Boykin gives the Eagles a good nickel cornerback and a deangerous return man which can allow them to protect DeSean Jackson by using Boykin instead of Jackson to return kickoffs and punts. Dennis Kelly is an off the radar that has a big frame and seems like he has a fairly high ceiling. The Eagles picked another player that I am big on in Marvin McNutt as he will give the Eagles a bigger receiver that can go up and get the ball to go along with the speedier DeSean Jackson and Jeremy Maclin. Brandon Washington is another developmental piece that can be a good swing offensive lineman immediately. Bryce Brown is a good pick in the seventh round as he can be a good backup for LeSean McCoy. The Eagles have had a very good draft and they will reap the benefits of it this season.
Nick Perry will be a key part of a rebuilt
Green Bay defense.
Green Bay Packers
The Packers also had one of the best draft this year as they made tons of excellent moves to improve their defense especially. The Packers started out the draft by taking USC DE/OLB Nick Perry who was very productive at USC and I think will form a very dangerous combo with Clay Matthews at outside linebacker. In the second round, the Packers traded up to get Michigan State DT Jerel Worthy who should be an effective immediate starter for the Packers at defensive end in the Dom Capers 3-4 defensive scheme. The Packers then traded back into the second round and picked up a successful college cornerback in Vanderbilt's Casey Hayward. Hayward knows how to intercept the football as he can immediately be a nickel cornerback, a long term starter, and allow the Packers to move Charles Woodson to safety. The Packers used the first of their two first round picks on Iowa DT Mike Daniels who can develop into a solid 3-4 defensive end opposite of Worthy. The other pick was used on Maine S Jerron McMillian who is a developmental player that can be an effective NFL safety if he improves his tackling. Terrell Manning was a steal in the fifth round as he gives the Packers more linebacker depth and the possiblity of putting Nick Perry at defensive end instead of outside linebacker on some plays. The Packers picked some offensive players by taking Florida State OT Andrew Datko and Chattanooga QB BJ Coleman. Datko can provide the Packers some good offensive line depth while Coleman will be a developmental quarterback that will get to learn behind Aaron Rodgers as the number 3 quarterback. The Packers had an excellent draft which has set them up as a favorite to win the Super Bowl.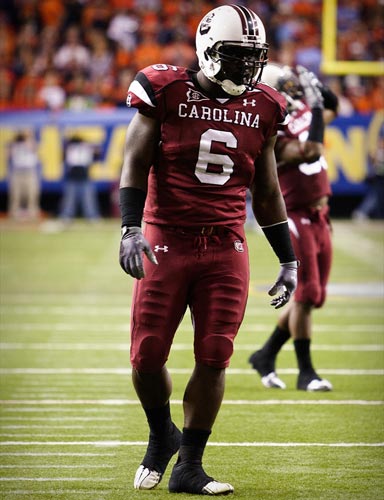 Melvin Ingram will be a key player for the
Chargers defense.
San Diego Chargers
The Chargers made some great picks in this year's draft as they look to go back to the playoffs after missing the postseason the last two years. The Chargers were able to find a very pass rusher in South Carolina OLB Melvin Ingram. Ingram was a steal at pick 18 as he can definitely be an immediate force for the Chargers defense. Kendall Reyes can be the long term for replacement Luis Castillo as he has all the makings of a strong 3-4 defensive end. Brandon Taylor is a good young safety that has good ball skills and has the making of a very good safety. In the fourth round, the Chargers took UL Lafayette tightend Ladarius Green. Green will be able to compliment Antonio Gates well and replace him in the long term as this is a little bit of a steal. Johnnie Troutman is more of a developmental player for the Chargers as he could provide some decent depth on the offensive line. The Chargers made a couple of great impressive picks in the seventh by taking Michigan C David Molk and Michigan State RB Edwin Baker. Molk was a four-year starter at Michigan and has the leadership to be a very good center for a long time. Baker can be a good second running back behind Ryan Matthews as it also gives the Chargers a good security blanket if Matthews continues to get hurt due to the loss of Mike Tolbert to Carolina. The Chargers have had a very good draft which can help get back to the summit of the AFC West.
Losers
Could Pete Carroll be on the hot seat.
Seattle Seahawks
The Seahawks draft is headlined by reaches throughout as a draft like this could cost Pete Carroll his job in the long term. The Seahawks made a huge reach in the first round by taking a poor motor, character issue player in West Virginia pass rusher Bruce Irvin. Carroll is not good with dealing with players that have character issues so I really do not get why Carroll made this move. Then, they traded down to take Utah State ILB Bobby Wagner when he could have had a much better inside linebacker a little earlier in Cal's Mychal Kendricks. Russell Wilson is a high character guy but the Seahawks already have plenty of quarterbacks so this just seemed a little wasteful. Robert Turbin may have been the Seahawks only quality pick as he can be better than Marshawn Lynch is in a couple of years and still be an immediate factor. Jaye Howard could be a decent run stuffer but he probably fits better in a 3-4 defense with his speed than a 4-3 defense. Korey Toomer is an off the radar player that they could have probably gotten as an undrafted free agent instead off as a fifth round pick. In the sixth round, the Seahawks made a couple of decent additions to the secondary in Northwestern State's Jeremy Lane and Kentucky's Winston Guy. The Seahawks used their last two picks on a couple of defensive lineman that seemed like sure undrafted free agents. Pete Carroll will have to have better drafts in the future if he wants to keep his job.
Zach Brown is a part of a poor Titans draft class
Tennessee Titans
Mike Munchek almost got the Titans to the playoffs this season but a draft like this will not help their chances of getting to the upcoming season's playoffs. I am not a fan at all of Kendall Wright as despite a better 40 at his pro day, I do not think that he will be a good receiver as I think he is a slot receiver at best and more likely, a bust. Zach Brown is one of the only good picks they made as he has some potential to become a very good linebacker but there are definitely some character and motor concerns. I think Mike Martin benefited more from the Brady Hoke Michigan defense as I do not think he will be a starter in the NFL and could also be a bust. Coty Sensabaugh was a part of the Clemson defense that allowed tons of points including when they were blown out by West Virginia in the Orange Bowl. SMU TE Taylor Thompson is a huge risk as he has not played tightend since high school and may not be able to make an impact at his college position on the defensive line. Oklahoma State safety Markelle Martin is a good value pick in the sixth round and one of the bright spots of the draft as he could definitely become a NFL starter. Scott Soloman is an off the radar player who was a likely undrafted free agent. The Titans are definitely going to be disappointed with this draft as they will only get a couple of solid players out of it.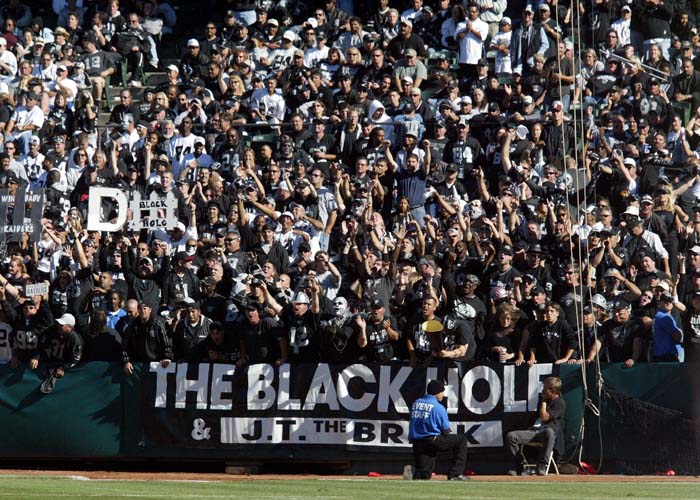 Raiders fans won't be happy with the Raiders' draft.
Oakland Raiders
A lot of the reason why Oakland is on this list is because they traded away their first rounder as a part of the deal that sent Carson Palmer to Oakland from Cincy. When you do not have a first or second round pick, you are already in a hole but they still did not do well with the remaining picks. Tony Bergstrom was a decent pick as he could be a good offensive guard but they had bigger needs that should had been addressed with that pick. Miles Burris could be a decent linebacker but there were better players that Oakland could have got. Jack Crawford would probably fit better in a 4-3 defense and not a 3-4 scheme as he is more of a developmental pick. Juron Criner should bea number 3 or 4 receiver during his career as he could be a solid slot guy. Chris Bilukidi is a way off the radar guy that could have definitely been picked up as an undrafted free agent instead of being taken in the sixth round. Nate Stupar was a probably undrafted free agent so they could addressed a different position with this pick. When you do not have a first or second round pick in the draft, you are probably not going to have a good draft and the Raiders are a perfect example of that as Reggie McKenzie did not have a good first draft as Raiders GM.