The New Orleans Hornets will have tons of cap space this offseason to keep Eric Gordon and bring in talent to surround the young guard as they could have 42 million dollars in cap space if they amnesty Rashard Lewis. If the Hornets make the right moves, they will be able to make the playoffs next season and possibly contend for a title. This may seem crazy but it will take only a few simple steps to build this team into a contender after amnestying Rashard Lewis.

Gordon can be a star in the Big Easy
1. Resign Eric Gordon
Eric Gordon has become one of the best shooting guards in the NBA as he is an elite scorer who can give them 20 plus points a game. Eric Gordon is an elite guard that can definitely make some appearances in the NBA All-Star game in the near future. The Pacers will look to rival the Hornets in trying to get the former Hoosier star as Gordon will probably get a five-year deal in the 70 million dollar range. Eric Gordon will take up about 12 million dollars of their cap space for next season as it will definitely be worth it to bring him in.
Cap Space Remaining: $30 million
Anthony Davis is ready to be a star in New Orleans
2. Draft Anthony Davis First Overall, Draft Kendall Marshall Tenth Overall.
Everybody knows that the Hornets will take Anthony Davis number one overall in the draft as he will be anh immediate starter and a great defensive player. Davis can be a star in New Orleans as he can definitely defend the best NBA big men. The Hornets will have to see who is on the board at the tenth pick as I think Damian Lillard will be off the board but I think that Andre Drummond and Kendall Marshall will both still be on the board. The Hornets will probably be too intrigued by the upside of Andre Drummond that they will take him but I think they should take Marshall. Kendall Marshall has the skill set to be the next Rajon Rondo as he can replace Jarrett Jack after he becomes a free agent next year. Marshall knows how to make the right play whether it is setting up a teammate or getting it to the basket and making an easy layup. Davis and Marshall can be key pieces of a winning New Orleans Hornets team. The Hornets also have a couple of second rounders that they can deal for a future, late first roun pick as they only need to pick up a couple of players.
Cap Space Remaining: $24 million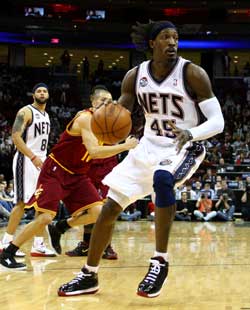 Gerald Wallace will test the free agent market
3. Sign SF Gerald Wallace
Gerald Wallace has been a solid starting NBA small forward as he is a very good scorer and he can be a good member of a contending team. Wallace can immediately be the starting small forward for this team as he is a quality player that wants to win. Wallace will have a decision to make as he could stay in Brooklyn and play for the Nets if they keep Deron Williams. However, the Nets could use him in a trade for Dwight Howard if he stays and that will probably not interest him. Wallace will be able to start in New Orleans and be an effective scorer as he will probably need a three-year deal of around $24 million to sign him. He will cost $8 million a year but it will be worth it.
Cap Space Remaining: $16 million
Howard or Bynum could end up in New Orleans
4. Sign veterans Marcus Camby and Antawn Jamison. Resign Marco Belinelli.
The Hornets will need a center and if they sign Jamison and Camby, they will have some versatility in their lineup. Davis can play center and if the Hornets want a speedier, smaller lineup, they can start Jamison and Davis with Camby and Gustavo Ayon coming off the bench. When the Hornets play teams that play large in the post, they can put Marcus Camby at center and Davis at power forward with Antawn Jamison coming off the bench. Marco Belinelli was a productive player for the Hornets this year as he is a good scorer that can make an impact as a rotational player on a contender. All three players will sign one-year deals that are worth a combined $16 million (Jamison $6 million, Camby $5 million, Belinelli $4 million). These move give them $20 million dollars for next offseason that they can spend on an elite big man to put with Anthony Davis like a Al Jefferson, Paul Millsap, Serge Ibaka, Josh Smith or even a big name like Dwight Howard or Andrew Bynum. The Hornets are prepared to win now as Tom Benson is getting a franchise that can be great.