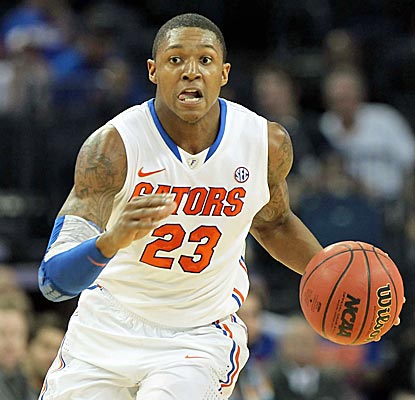 Beal has become the second best prospect in this year's draft
Bradley Beal has emerged as arguably the second best player in this year's draft after Anthony Davis but the Charlotte Bobcats are looking to move their number two overall pick as they have no interest in Beal since they already have DJ Augustin, Kemba Walker, and Gerald Henderson in the back court. The Bobcats will have some suitors for that pick as Bradley Beal is potentially the next Ray Allen. So, who could the Bobcats trade the Bradley Beal pick to?
Trade Proposal Number One
Washington Wizards send: First Round Pick 3, SF Trevor Ariza
Charlotte Bobcats send: First Round Pick 2
The Wizards could very well get Beal with the third pick if Charlotte stays at two but the Bobcats will most likely move this pick and the Wizards want to get Beal. Beal would allow the Wizards to go with a smaller starting lineup with John Wall and Jordan Crawford. Beal would give Wall another shooter to give the ball and having two sharp shooters in Beal and Crawford will be a hard thing challenge defensively for opponents. The Bobcats will get Trevor Ariza which will allow them to upgrade at small forward as Ariza is still only 26 and is still developing. A change in scenery is exactly what Ariza need and has already received once already since he is at least going to DC. This trade can work well for both sides as both teams can get the players they could use.
Trade Proposal Two
Cleveland Cavaliers send: First Round Pick 4, First Round Pick 24
Charlotte Bobcats send: First Round Pick 2
The Cavaliers have multiple picks that they can use in a trade for the second overal pick as they can send the Bobcats both of their own first round picks for the second pick. The Bobcats need a shooter that Kyrie Irving can drive and kick the ball out to and Beal is that player. The Cavs need a 2 guard and Beal is definitely the best option in this year's draft. The Bobcats need picks and this can allow them to take Thomas Robinson or Michael Kidd-Gilchrist here, whichever one is still on the board and they can also get another role player later on in the draft. This trade fits well for both teams as this proposal would make the Bobcats think.
Trape Proposal Three
Toronto Raptors send: First Round Pick 8, SG/SF DeMar DeRozan
Charlotte Bobcats send: First Round Pick 2
The Raptors are not convinced about DeRozan and his future as a shooting guard as the Raptors could use him as a piece of a trade for the number 2 pick and Bradley Beal. Beal would give Toronto the sharp shooter from beyond the arc that they have been lacking. DeRozan can move to the three as he has the size to do that and that would give the Bobcats a young scorer at the three that can attack the basket and find his own shot. The Bobcats could look at Andre Drummond at the eigth pick as a high upside center as they could use a young center to put beside Bismack Byombo in the future. This deal would give the Bobcats a proven scorer while the Raptors would get a playmaking shooting guard that can make some big shots.
Trade Proposal Four
Indiana Pacers send: First Round Pick 26, SF Danny Granger, 2013 First Round Pick
Charlotte Bobcats send: First Round Pick 2
The Pacers have wanted to move Paul George to the three and have lookedd at trading Danny Granger as they look to gain more cap space so they can keep their stars and build a stronger team. Beal would give the Pacers a true 2 guard and anothr strong shooter from beyond the arc with Paul George. The Pacers cold also bring in Ray Allen to mentor Beal as Beal could have less pressure in that role while Allen would get to still be on a contender. Beal would also give them a guarantee at shooting guard as it is unlikely that Eric Gordon will leave New Orleans for Indiana. Danny Granger could be a star in Charlotte as that would give Michael Jordan's team a veteran leader that is a proven scorer while they can also get a couple of first round picks that they can work with as they build this team for the future. This might be a longshot but Indiana could be the big sleeper in the Bradley Beal sweepstakes.