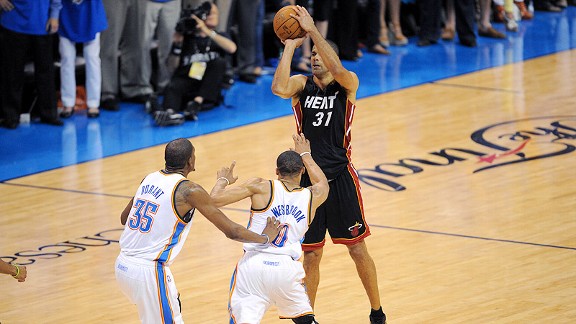 Shane Battier has been big for the Heat in the NBA Finals
The Heat might have LeBron James, Dwyane Wade, and Chris Bosh playing well but it has been Shane Battier that has been key to the success of the Heat. Shane Battier has stepped up his game in the NBA Finals as he has made some big shots in these playoffs and especially in game two of the Finals to lead the Heat to victory. So, what has Battier done that has made him so essential?
1. Battier is doing well with 40+ minutes.
Shane Battier has played well and this has allowed the Heat to give their big three some rest instead of having LeBron and Wade play the whole games. Battier has shown the stamina also to play these many minutes in these intense games as this is giving the Heat a fourth scorer which makes them very dangerous. Battier has proven to be a key player in the Heat lineup due to his stamina and his scoring as Battier has shown an excellent ability at playing in the big minutes.
2. Battier is making tons of shots
Shane Battier has been getting open from beyond the arc for three point shots and he has been making those shots. This has allowed the Heat to attack the basket with LeBron James or Dwyane Wade knowing that they can kick it back out to Battier to make the big three point shots. This also will force the Thunder to keep someone on Battier throughout the game. Battier has amde nine three pointers already in this series and I would expect him to keep making throughout the rest of this series.
3. Battier is stepping up in the fourth quarter.
Battier is stepping up at the end of games in these NBA Finals as when it has seemed like the Heat are about to blow it, Shane Battier steps up and makes a big three. During game two, the Thunder cut Miami's lead to four and the Heat couldn't find anybody to shoot it on the next possession until they found Battier who did not have the easiest three with the shot clock in single digits. Battier put the shot off the backboard and in which turned all the momentum back to the Heat. Without that the shot, the Thunder would have probably come back and taken the lead. Battier has been making big shots like that throughout the playoffs and he will need to keep doing that if the Heat want to win the NBA Championship.