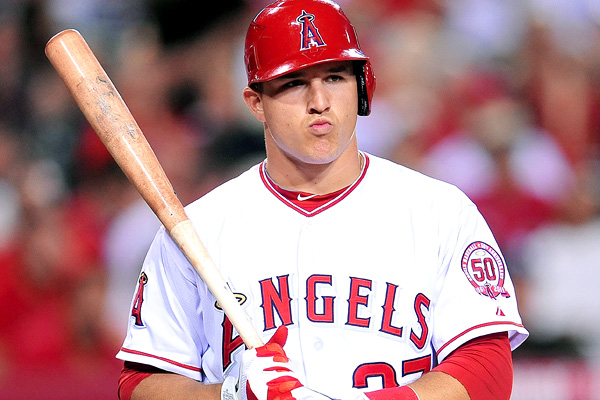 Trout has been the best rookie in baseball this year
Rookies have made big impacts in the majors this year as these rookies may be the best group of rookies we have seen in a long time. So, who is on this all rookie team?
Montero has done well in Seattle
Designated Hitter: Mariners C/DH Jesus Montero
Catcher: Rockies C Wilin Rosario
The Yankees probably regret the Michael Pineda trade right now as Jesus Montero has been tearing it up in Seattle. Montero is definitely in the hunt for AL rookie of the year with his 8 home runs, 28 RBIs, and .270 batting average could help him make an All-Star appearance in Kansas City this summer. Rosario has not been in the majors too long as he only has had 135 at-bats but Rosario has done well behind the plate and he has also hit 9 home runs and 27 RBIs so far this season as Rosario could end up in the NL rookie of the year hunt this season.
Middlebrooks has been shining at Fenway
First Base: Cardinals 1B Matt Carpenter
Second Base: Phillies 2B Freddy Galvis
Shortstop: Reds SS Zack Cozart
Third Base: Red Sox 3B Will Middlebrooks
The Cardinals looked for someone to replace Lance Berkman after he picked up his injury and they found that in Matt Carpenter who has been driving in tons of runs with 20 RBIs. Freddy Galvis has been Chase Utley's replacement so far this season as he has been putting up some strong performances with 24 RBIs. However, Galvis has gone on the disabled list with a back injury which could really hurt him. Zack Cozart knows how to play baseball the right way as his defense is excellent while Cozart just knows how to do the little things that are needed to succeed at this level. Cozart has some power as he has hit 7 home runs while he has only commited six errors all season at shortstop. Will Middlebrooks has forced the Red Sox to adjust their lineup to fit Kevin Youkilis back in as Middlebrooks has been hitting well at the plate with 6 home runs, 24 RBIs, and a .289 batting average. Middlebrooks will be a contender for the AL rookie of the year this season.
Harper has become a regular starter in DC
Left Field: Athletics OF Yoenis Cespedes
Center Field: Angels OF Mike Trout
Right Field: Nationals OF Bryce Harper
Most people thought Cespedes would need to start out in the minors after Oaklad signed him but they started him from day one as his numbers would probably be more impressive if he would not have been on the disabled list for a month. However, Cespedes has still had six home runs and 26 RBIs while he has had two outfield assists from center field with his only error coming in a rare appearance in left field as he is definitely an AL Rookie of the year candidate. Mike Trout has been the spark that the Angels have desperately needed after they had some probelsm from sturggling outfielders. Trout has put impressive numbers with 6 home runs, 27 RBIs, a .324 batting average, and 16 stolen bases. Trout knows how to play the game right and will become a superstar in the near future. Trout could very well end up in Kansas City for the All-Star game and he is definitely the favorite to win the AL rookie of the year. Like Trout, Bryce Harper also knows how to play the game right as he is an all-around complete player just like Trout. Harper has been an immediate impact player since he got the chance after injuries plagued the Nationals start. Harper has cemented his spot in the Nationals' lineup with his 7 home runs, 19 RBIs, .294 batting average, and some great defensive plays thanks to his excellent speeed. This might be the best trio of rookie outfielders that baseball has ever seen.
Darvish has been a strong pickup for Texas
Number 1 Starter: Rangers SP Yu Darvish
Number 2: Diamondbacks SP Wade Miley
Number 3: Orioles Wei-Yin Chen
Number 4: Athletics SP Jarrod Parker
Number 5: Rays SP Matt Moore
Yu Darvish has been as good as the Rangers probably hoped he would be in his first season in the US as Darvish has had 88 strikeouts while keeping his ERA at a strong 3.57 over 13 starts with a record of 8-4. Wade Miley has been a key addition to the Diamondbacks rotation as he has been key to the Diamondbacks staying in the NL wild card hunt. Miley has had an ERA of 2.39 in his 13 appearances (10 starts) while he has only given up 17 walks and has a WHIP of 1.04 with a record of 7-3. Wei-Yin Chen has been a key part of the resurgance in Baltimore as he has been a key part of a rather weak rotation. Chen has had a 3.36 ERA this season with a record of 7-2 in 13 starts. Jarrod Parker was the center piece of the Diamondbacks trade package that they sent to Oakland in the Trevor Cahill deal. Parker has done well in 10 starts for the A's this year as he has a 2.82 ERA with a 1.25 WHIP but he has a record of only 3-3. Matt Moore had a break through performance at the end of last season for the Rays and despite a start that has not been as good as last year, Moore has still been fairly good. Moore has a 4-5 record witha 4.12 ERA as Moore as has an impressive 79 strikeouts so far.
Cook has been the best rookie reliever this year.
Left-Handed Reliever: Rangers LHP Robbie Ross
Right-Handed Reliever: Royals RHP Kelvin Herrera
Closer: Atheltics RHP Ryan Cook
Robbie Ross has been a good callup to the Rangers bullpen as the left-handed pitcher has given the Rangers another excellent option out of the bullpen with his 1.25 ERA in 25 appearances. Kelvin Herrera has made 31 appearances this season and he has been very impressive with an ERA of 3.22 but he also has had 33 strikeouts in 31 innings. Ryan Cook has been given the chance to take the closer role in Oakland as he has converted his three of his first four save appearances. Cook has had an excellent season in Oakland as he has an ERA of 0.61 and a WHIP of 0.84 in 28 appearances.