Tensions flare as Joey Barton receives a red card.
Sometimes, when all hope seems lost, the greatest cmebacks in sports happen and today is no different. Manchester City seemed destined to lose the Premier League title to arch rivals Manchester United as Djibril Cisse tied the game up and then James Mackie gave QPR a 2-1 lead as they looked to survive in the Premier League. In between the goals, QPR's Joey Barton threw an elbow and got a red card which put QPR at ten men. All hope seemed to be loss as constant attacks from City just didn't work out as Samir Nasri, David Silva, and Carlos Tevez all had shots go wide. Manchester City fansw were growing frustrated and stunned as QPR saw Stoke tie Bolton which took pressure off of QPR as they did not have to win to survive. All hope seemed to be loss as five minutes went up on the stoppage time board,
but that is when it all changed.
Second minuted of stoppage time: Manchester City got a corner and the big, Bosnian striker Edin Dzeko got his 19th goal after coming off the bench as this tied the game up for City and gave them a little hope. Meanwhile, Manchester United thought the title was there as they defeated Sunderland but then they heard that City tied it up but it still seemed to be United's title.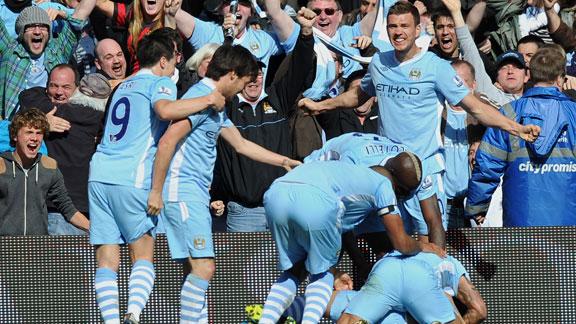 Manchester City celebrates Sergio Aguero's title-winning goal.
Then, in the fourth minute of stoppage time, Mario Balotelli found Sergio Aguero who took a couple of touches and then put the ball by QPR GK Paddy Kenny and into the back of the net. The Ethiad Stadium erupted into cheers as the fans could not believe what had just happened. Roberto Mancini was running around and celebrating while the City players celebrated along with Manchester City's newest hero, Sergio Aguero. Meanwhile, the Manchester United players and fans were stunned at the Stadium of Light when they saw what had happened as some of the players look like they could not believe what had just happened. Manchester City had won the Premier League and it was confirmed when the whistle blew as Joe Hart punted the ball in celebration.
Manchester City celebrates winning the Premier League
What happened in Manchester was truely a miracle as the fans stormed the field to celebrate until they were forced back into the seats due to the fact that they still had to present the trophy. Captain Vincent Kompany got to lift the trophy as the fans went crazy. This will go down as one of the greatest finishes in the history of sports as Manchester City fans will always remember this day, the
Miracle in Manchester
.