Tonight, there are two big games sevens, one in New York, the other in Los Angeles.
There are two words in sports that are like no other, Game Seven. Game Seven is always the most decisive game as in most sports. Game Seven is winner take all with the loser going home and not getting another shot at a title til next season. Tonight, there are two of these games across the NBA and the NHL as the Los Angeles Lakers take on the Denver Nuggets in LA while the New York Rangers host the Washington Capitals at Madison Square Garden. All four of these teams want to stay alive but only two of them will, so who will it be?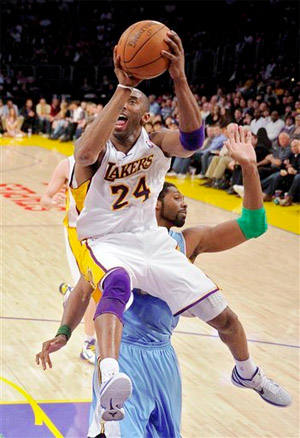 Kobe is bound for a big game.
Denver Nuggets at Los Angeles Lakers
The Nuggets have come from down 3 games to one in the series to force a game seven due to the fact that they are outworking the Lakers over the last two games. The problem for the Lakers has been a lack of effort especially from Pau Gasol and Andrew Bynum as neither of them have showed up the last two games. Ty Lawson and Andre Miller has formed a dangerous combo at the point as they both provide different qualities. Miller is more of a distributer while Lawson knows how to get to the basket and score like Tony Parker. Rookie Kenneth Faried has outplayed Pau Gasol in this series but Gasol is a good enough player to have a big game tonight. The matchup of Andrew Bynum and Javale McGee is very interesting as you never know what to expect from these two centers. Kobe has been great throughout the series and a huge game seven is expected from him. The rerturn of Metta World Peace is a huge help to the lineup as he brings a lot of needed energy. The Lakers have been disappointing the last two games with their effort and despite the Nuggets high energy performances, the Lakers will win game seven and book their ticket to a Western Conference semifinal matchup against the Oklahoma City Thunder.
Ovechkin vs Lundqvist will be the big matchup
Washington Capitals at New York Rangers
All six games in this series have been exciting as the Caps and the Rangers have both been playing at a high level. After the Rangers loss in game six, John Tortorella gave the shortest press coference ever out of complete frustration with his team's performance. Meanwhile, Dale Hunter was happy with the Caps' Game Six performance. Tortorella and Hunter both have two very different coaching styles. The key for the Caps has been their power play kill while the Rangers are doing their most damage on the power play. The Caps have done well when numbers are even while the Rangers have struggled to score when it's 5-on-5. Both goalies have been impressive as Braden Holtby has been a huge surprise while Henrik Lundqvist has been proving once again why he is one of hockey's best goaltenders. Alex Ovechkin knows exactly where he needs to shoot the puck to score on Lundqvist as he has been finding some great opportunities in space to shoot and score. Derek Stepan was giving himself chances to score as he positioned himself in front of Braden Holtby and played very well, almost scoring. Both teams have played well but Washington has played better than New York 5-on-5 and the Caps have a great penalty kill unit so I expect the Caps to advance past the Rangers and win another game seven.